---
Sep 3 2016 14:50
Review The Boy (2015), evil since childhood
---
The boy is an independent US terror movie that was filmed in Colombia by taking advantages of task incentives for filming in this South American country.
The filming took place in Santafe de Antioquia, Colombia and the motel that appears in the movie was built during six weeks. This way, production could give the look they planned since the very beginning of the story, something that wouldn't have been possible in a location in USA.
This is a story that was stretched out to a feature film after director and screenwriter Craig Macneill screened it under the title "Henley", with a great success. Henley short film was inspired on a chapter from the novel "Miss Corpus" by David Chapman (The Henley Road Motel).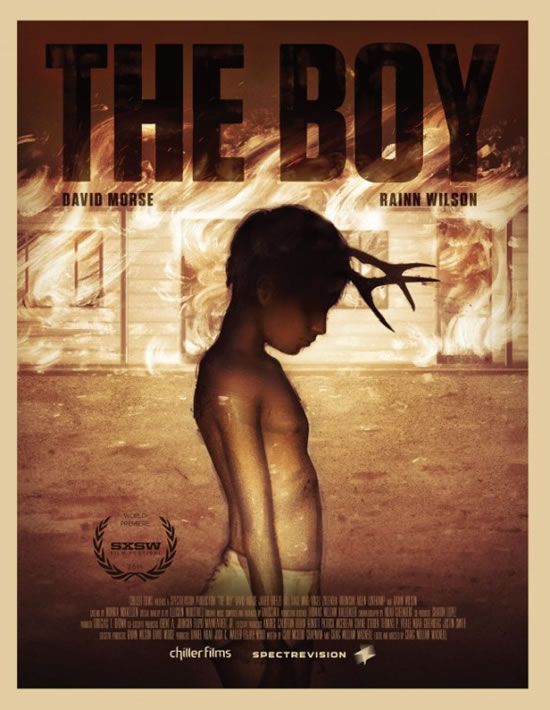 The Boy film is set in 1989, in a little-used road where is located an inherited and careless motel due to few customers. In this condition lives Ted Henley, a 9-year-old boy, with his father John. Ted is a kid who is growing up alone, his mother ran away with a guest and now lives in L.A. His father feeling a huge frustration leaves himself and his son.
What we see in this movie is the birth of a serial killer, a boy who confirms that too much leisure only can wake up the evil side of a person. Ted explores the basest instincts of a human being and do it with an astonishing coldness.
The lack of innocence in this child makes to be hard to guess if we have a case where the evil comes from genes, or we see the normal consequences of someone who is left to his own fate at a short age and in an inappropriate environment, or whether it is a combination of both. This film is direct and goes right to Ted's actions, without deepening too much into his parents, in order to justify more precisely his motivation. Maybe, this doesn't like to audience, because when you watch The Boy, you would want to understand his disturbing acts, and that the director said exactly why this boy wakes up that fascination for death. All of these are dynamics that offer this great movie and its loose ends are (maybe) the windows for a sequel.
In any case, this is a film without bad tricks, in fact, we can anticipate the next scene where Ted provokes a next disaster, and when climax comes it doesn't surprise us enough, despite, it is horrifying and outlandish, because during the entire film we can "taste" the shocking scopes of this boy, who seems an insurmountable case. There is one scene where his father is hugging him with so much pain and helpless gaze as if inside of him he knew what's going on behind his son.
Craig Macneill said that from novel that is based The Boy he took the most realistic elements, and it is. This is a drama but also a terror film that turns so shocking for being very close to reality and the performance by the kid actor Jared Breeze was quite essential to get this psychological and unhealthy environment.
It is really hard to understand the character of this kind of person, it is not enough to dig into the present or even the past. When SpectreVision, the production company co-founded by actor Elijah Wood, watched the short film in Sundance, they asked to Macneill to stretch out this story into a trilogy that shows a serial killer during three stages of his life: his 9, 14 and 18 years old. I don't know if sequels are under way but I hope this story has a continuation very soon. First movie has known to leave some questions to audience. Sociopathy is one of the biggest enigma in our human nature.
Craig Macneill makes me remember with his director choices to Canadian director Denis Villeneuve.
Cast and Crew
Director: Craig Macneill
Running Time: 151 minutes
Genre: terror, drama
Written by: Craig Macneill, Clay McLeod Chapman
Cast: Jared Breeze, David Morse, Rainn Wilson, Zuleikha Robinson, Mike Vogel
Cinematography: Noah Greenberg
Music: Hauschka
Edition: Craig Macneill
Country: United States
Year: 2015
---